Discover Villa Borghese Pinciana | History, Rooms, & More
Contents
Quick Facts about Villa Borghese Pinciana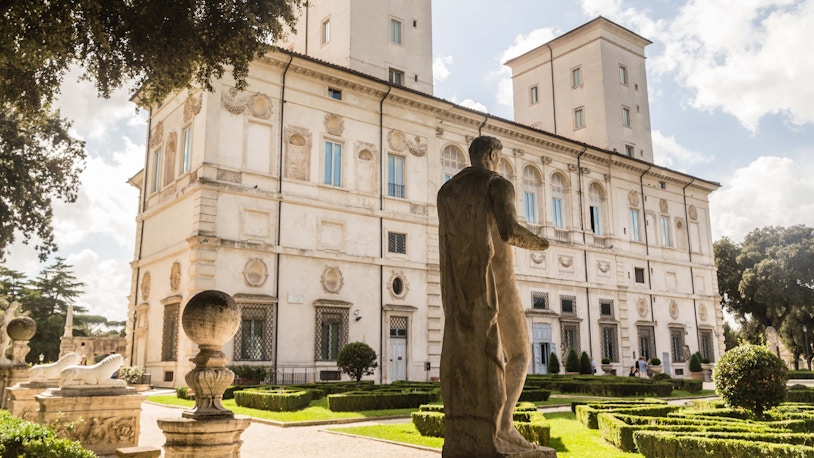 Official name: Villa Borghese Pinciana
Address: Piazzale del Museo Borghese, 00197 Rome, Italy
Date of opening: 1605
Timings: Open daily from 9 AM to 7 PM (last admission at 5 PM)
Architect: Flaminio Ponzio, Giovanni Vasanzio, and others
Architectural style: Baroque
Why is Villa Borghese Pinciana So Famous?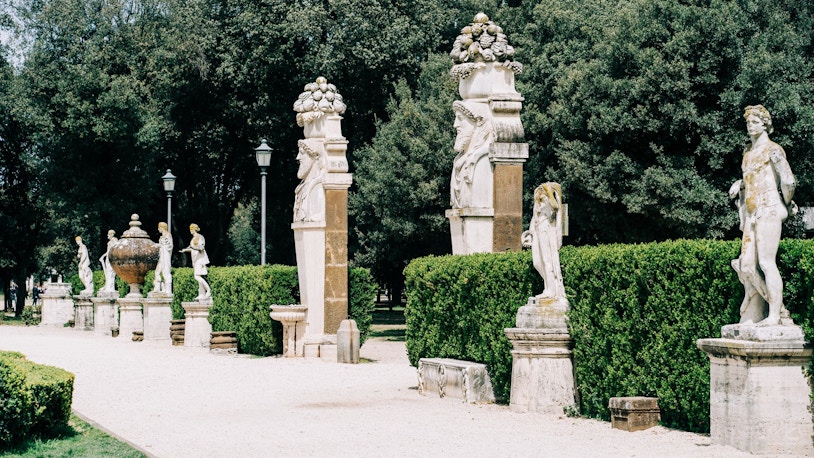 Stunning art collection: The villa is home to an impressive art collection, featuring works by some of the most famous artists in history, including Bernini, Caravaggio, and Raphael.
Historical significance: The villa was built in the 17th century and served as the home of Cardinal Scipione Borghese. It was later turned into a public park and gallery, allowing visitors to experience its rich history and culture.
Palatial allure: The villa was designed and built by Scipione Borghese with an artistic suit where he threw lavish garden parties to showcase his art collection.
Beautiful gardens: The Villa Borghese gardens are considered some of the most beautiful in Rome, with numerous fountains, sculptures, and monuments.
Discover the Rooms of Villa Borghese
The Villa has 2 floors with a total of 20 lavish rooms decorated with paintings, sculptures and antiques of well-known artists.
First Floor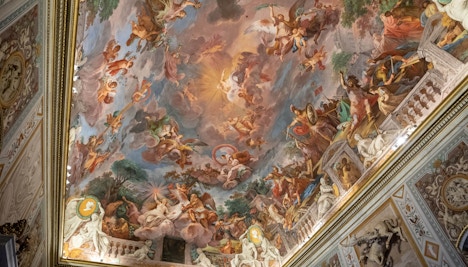 Marianna Rossi Hall
This is the entrance to Villa Borghese and its most promonent feature is the ceiling by Marianna Rossi. This huge hall with monumental sculptures and decorations were part of Prince Marcantonio's renovations.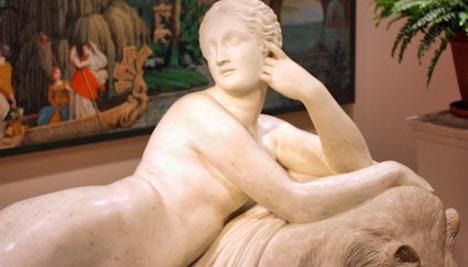 Paolina Room
One the most famous sculptures of the Borghese collection made my Antonio Canova, the statue of Paolina Borghese Bonaparte as Venus Victrix, is on display here.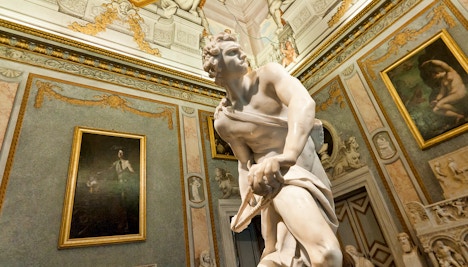 David Room
Bernini's life-size sculpture of David is placed in the center of this room. It was orginally called the 'Room of the Sun' due to the presence of the Fall of Phaeton in the center of the ceiling.
Apollo and Daphne Room
Bernini's life-sized Baroque marble sculpture, Apollo and Daphne is housed here along with works of Dosso Dossi, Giovanni Battista Marchetti and paintings representing Daphne's Metamorphoses on the ceiling.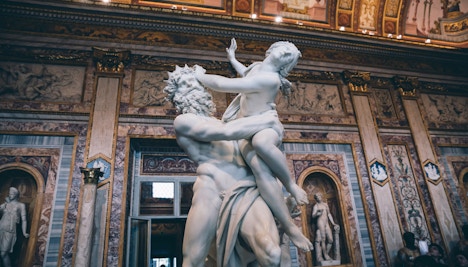 Room of the Emperors
This room gets it name from the 18 alabaster and porphyry busts of theTwelve Caesars and Goddess Juno. The room also features paintings of Domenico de Angelis and Marchetti's architectural trompe l'oeil (3D optical illusion).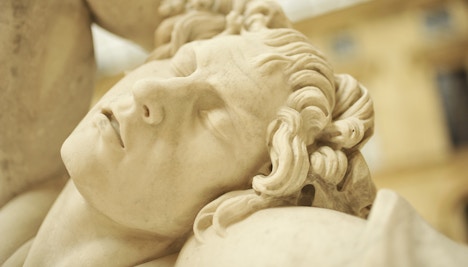 Hermaphrodite Room
The famous sculpture of Hermaphrodite gives this room its name. Oil paintings of Nicola Buonvicini, Marchetti's murals, works of Vincenzo Pacetti and Paul Brill are also on display here.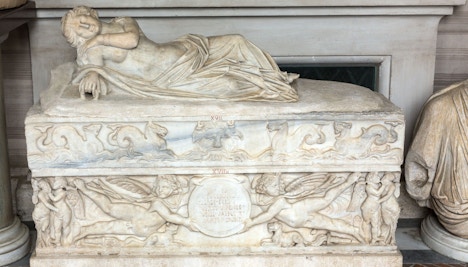 Aeneas and Anchises Room
Bernini's marble group with Aeneas and Anchises is placed right in the center of this room along with the paintings of Laurent Pécheux on the ceiling and those of Jean Baptiste Tierce.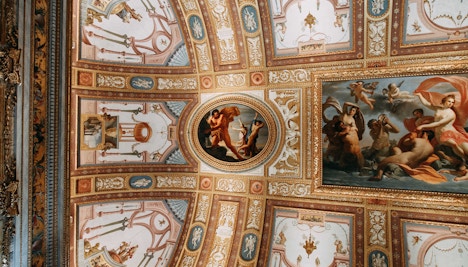 Egyptian Room
This room has Marchetti's architectural trompe l'oeils representing the Egyptian planetary gods and Conca's celing paintings depicting Anthony and Cleopatra.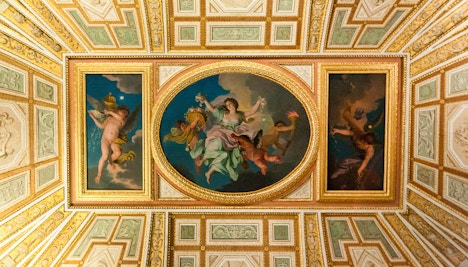 Silenus Room
The last room on the ground floor has 12 paintings by Caravaggio, Cavalier d'Arpino's famous works and masterpieces of Cigoli, Dirck van Baburen and Giovanni Baglione.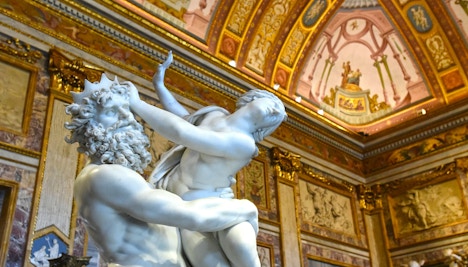 Dido Room
The ceiling of this room is decorated with the story of Apolo and Dido by Anton von Maron. Other works on display here are of Perugino, Pinturicchio, Bartolomeo, Botticelli, Andrea del Sarto and Raphael.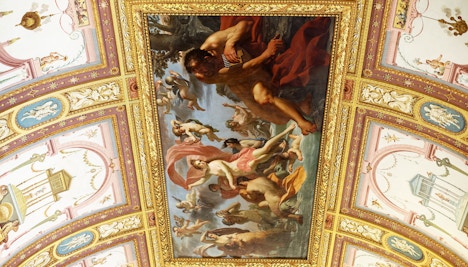 Hercules Room
The room gets its name from the five paintings of Hercules on the ceiling by Christoph Unterberger. Other notable artworks featured in this room include those of Brescianino, Niccolò dell'Abate, Correggio, Girolamo da Carpi and Nicolas Cordier.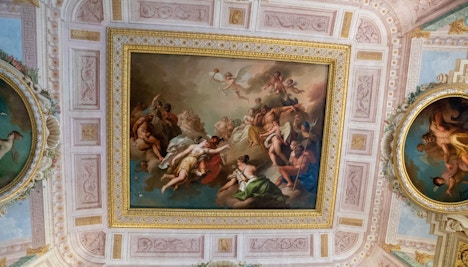 Room of Ferrarese Painting
Known as the "Little Gallery" and later as the "Gallery of portraits of women" before Marcantonio Borghese's renovation phase, the Tale of Ganymede by Vincenzo Berrettini is featured on the ceiling along with artworks of Ortolano and Mazzolino displayed in the room.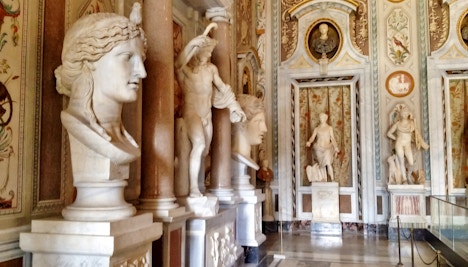 Room of the Bacchantes
This room gets its name from Felice Giani's fresco on the ceiling depicting three dancing women with decorations of festoons, floral motifs and musical instruments all around. Nordic works from the early 16th century and Leonardo Da Vinci's Leda and Lorenzo Lotto's Portrait of A Gentleman are the masterpieces here.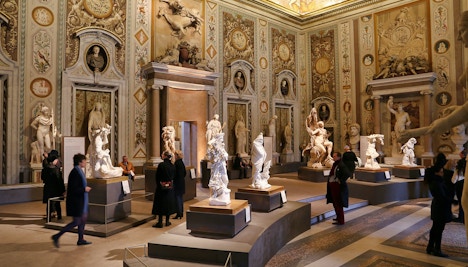 Fame Room
Felice Giani's Allegory of Fame is placed right in the centre and the landscapes displayed here are of Giovanni Campovecchio. Elegantly decorated in an antiquarian style, the room also features famous artworks of Francesco Ubertini, Giovanni di Lorenzo Larciani and Alonso Berruguete.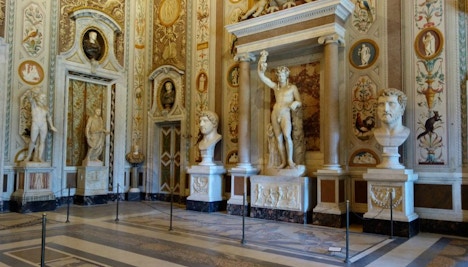 Lanfranco Loggia
This room houses Giovanni Lanfranco's Council of Gods and Claude Deruet's Assumption present. Most artworks in this room are from the 17th century epitomizing two pictorial currents of the time - the classic revival style and intensely expressed Caravaggesque naturalism.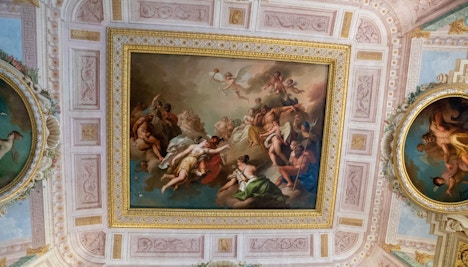 Aurora Room
The ceiling represents the Twilights of Dawn and Dusk and the Allegory of Aurora in three notable paintings by Domenico Corvi. Giovan Battista Marchetti decorated the walls with grotesques, zodiac signs, medallions etc. The room also has a sculpture depicting the allegory of Sleep by Alessandro Algardi right in the centre.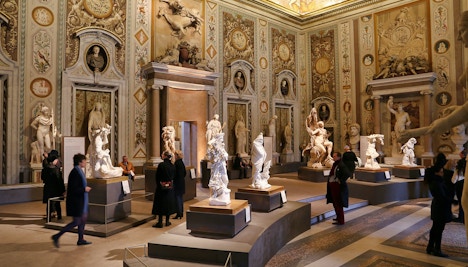 Flora Room
Domenico De Angelis represents Flora as the mother of flowers and plants. The vegetal volutes and trompe-oeil decorations are painted by Giovan Battista Marchetti. The room also displays paintings of Marcello Venusti, Pellegrino Tibaldi and Jacopo Zucchi.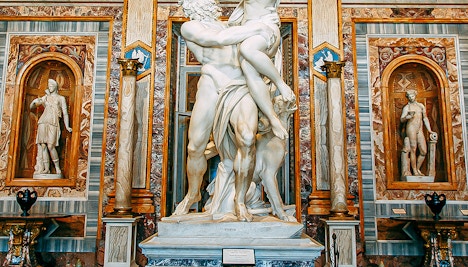 Count of Angers Room
The Recognition of Gaultier and Count of Angers are notable paintings by Giuseppe Cades dominating the ceiling in this room. The paintings displayed here are Flemish and Dutch artworks of the 17th century acquired by Antonio Asprucci. Gaspare Landi and Pompeo Batoni's famous works are also present here.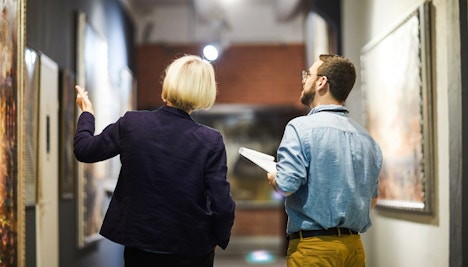 Jupiter and Antiope Room
This room has the Quadro Riportato by Bénigne Gagneraux featured on the ceiling along with decorations executed by Vincenzo Berrettini. Collections of Pietro da Cortona, noteworthy artworks of Roman Baroque portraiture, and paintings of Pieter Paul Rubens as well as Andrea Sacchi are also displayed here.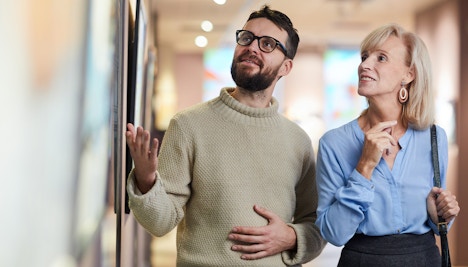 Helen and Paris Room
Gavin Hamilton and Giovan Battista Marchetti's decorations are featured on the ceiling in this room. Sculptures of Agostino Penna and Vincenzo Pacetti are also present. Other masterpieces here are the works of Domenichino, Federico Barocci and Giovanni Lanfranco.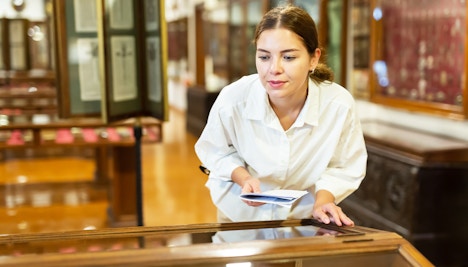 Psyche Room
With Pietro Antonio Novelli decorations on the ceiling, the room comes to be called the Psyche room as it represents the tale of Cupid and Psyche. Paintings of Giovan Battista Marchetti, Antonello da Messina, Titian, Giovanni Bellini and ornamental pieces by Agostino Penna are displayed here.
Brief History of Villa Borghese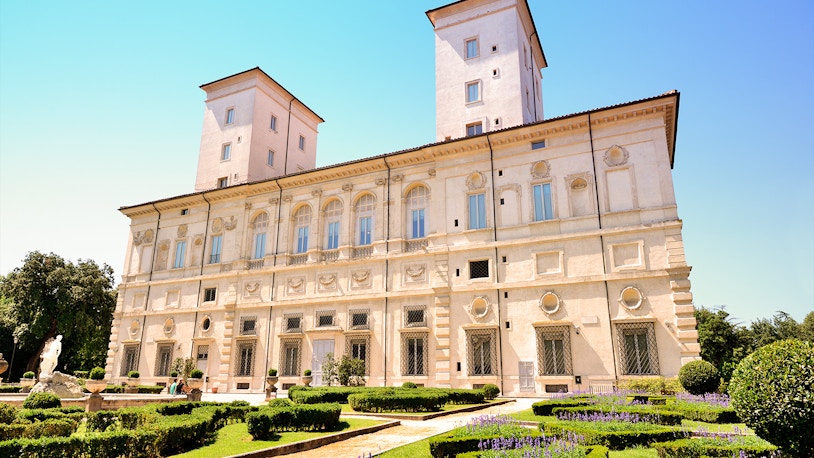 In the 17th century, Cardinal Scipione Borghese, the nephew of Pope Paul V, transformed his vineyard on Pincian Hill into the largest garden in Rome and commissioned the construction of Villa Borghese Pinciana in 1605. The villa was designed to house his impressive collection of artworks that included paintings by Caravaggio, Bernini, and Raphael. His estates were expanded over the years, and he added vast "secret gardens" and palatial complexes.
After his death, Prince Marcantonio IV Borghese redesigned the villa and made significant changes to the Casino Nobile and Villa. After Marcantonio IV, Prince Camillo Borghese sold some Borghese sculptures and antiquities in 1808 and they can be seen in the Louvre Museum in Paris. The Italian Government bought the entire monumental estate in 1901 and sold it to the Municipality of Rome.
Detailed History of Borghese Gallery
Villa Borghese Pinciana Today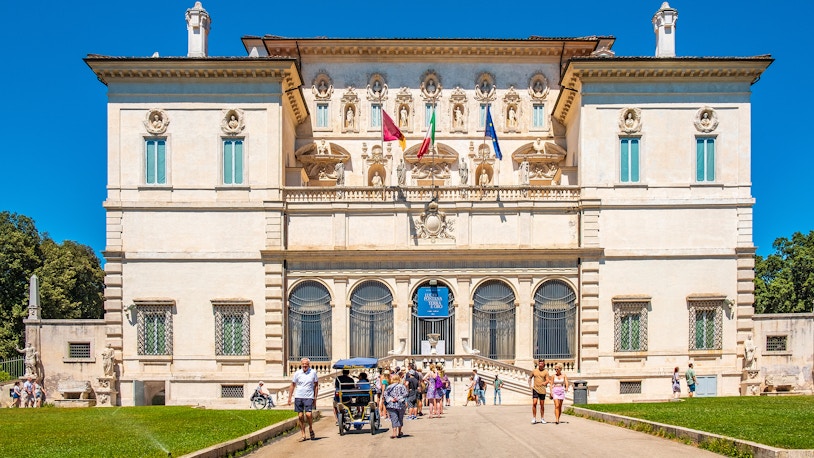 The Villa Borghese Pinciana is an iconic destination for art and culture enthusiasts. Today, Villa Borghese is open to the public and showcases a glorious fusion of art, architecture, and nature. It hosts public exhibitions and distinguished artistic events, attracting art lovers and tourists from around the world.
The villa and its stunning gardens serve as a cultural hub, hosting public exhibitions and distinguished artistic events. Additionally, visitors can enjoy various outdoor activities, including walking, jogging, and cycling, making it a popular recreational spot in Rome.
Book Borghese Gallery Tickets
Frequently Asked Questions about Villa Borghese Pinciana
What is the Villa Borghese Pinciana?
Villa Borghese Pinciana is a historic villa in Rome known for its art collection and sprawling gardens. . It was built by Cardinal Scipione Borghese and it formerly housed his private art collection.
Where can I buy Villa Borghese Pinciana tickets?
When was the Villa Borghese built?
Villa Borghese was built in 1605.
Who built the Villa Borghese?
Villa Borghese was built by Cardinal Scipione Borghese. It was designed by architect Flaminio Ponzio
What is the difference between Villa Borghese and Villa Borghese Pinciana?
Villa Borghese is a large park in Rome, which includes many attractions, such as the Borghese Gallery. Villa Borghese Pinciana is the name of the villa or building in the park that houses the Borghese Gallery.
Is there a dress code for entering the Villa Borghese?
No, there is no dress code for entering the Villa Borghese.
Where is Villa Borghese Pinciana located?
Villa Borghese Pinciana is located in the Pincian Hill area of Rome, Italy.
What can I see in the Villa Borghese Pinciana?
In the Borghese Villa, you can explore and admire world-class art collections, paintings and sculptures.
How many rooms are there in Villa Borghese Pinciana?
The Villa Borghese Pincianaconsists of 20 rooms that feature antiques, sculptures, and many paintings.
Who lived in the Villa Borghese Pinciana?
Scipione Borghese used to live and throw private parties at the Villa Borghese Pinciana. He also held private displays of his magnificent art collection.
Who owns the Villa Borghese Pinciana?
The Italian government has owned Villa Borghese in Rome since 1903.
Is the Villa Borghese worth visiting?
Yes, Villa Borghese is worth visiting as it offers art, paintings, sculptures, picturesque gardens, and mesmerizing views for visitors. Book the Villa Borghese tickets in advance to avoid huge crowds.
How long does it take to explore the Villa Borghese?
You will need at least 2 - 4 hours to explore the Borghese Gallery. However, if you need to explore the whole place peacefully, you will need half a day or a full day.
What else can I see around the Villa Borghese?
The Borghese Villa is located in the Villa Borghese Gardens which houses around 90 attractions that you can explore and enjoy. Some of these are the Temple of Asclepius, Water Clock, Carlo Bilotti Museum, Casina de Raffaello, Pincio Terrace, Bioparco di Roma, etc.
When is the best time to visit Villa Borghese?
The best time to visit Villa Borghese is during spring, between April and June as well as September to October is a pleasant time to visit Villa Borghese. Avoid summer as it is the peak tourist season with heavy crowds.